An ABATE member and fine local bike shop that has always supported us. This shop have supported us from the early days of this chapter. Please feel free to visit this site by clicking RATS WHOLE PLACE Get the service and parts you need from people you know.
Don't Forget To Shop Locally First!!!!!
USE YOUR VOTE, Vote Biker Friendly, don't lose Your Riding Freedoms
ILLINOIS MOTORCYCLE RIDERS TRAINING's link can be found by clicking the logo at the bottom of this page. Check after February 20th for the 2010 schedule and sign-up early, as the classes usually fill up fast.
"2010 ABATE Bike Raffle Tickets", the sale of these tickets supports ABATE of Illinois, while it gives you a chance to win!! The last three years, our chapter has done well, selling these tickets, this may be our chapter's best year yet!! We can only hope that the other chapters are doing well, as this money goes to work for your rights.
As you are riding around, if you see a road hazard that will need to be reported, click on this site RoadHazard.org choose the state and fill out the form, it's easy and quick. And it may save a life.
NEWS FOR OUR MEMBERS (please read whole page)
USE YOUR VOTE, Vote Biker Friendly, don't lose Your Riding Freedoms
HOW TO REACH YOUR ELECTED OFFICIALS
U.S. Senator Roland Burris at 202-224-2854 or burris.senate.gov/contact.cfm
U.S. Senator Richard Durbin at 202-224-2152 or durbin.senate.gov/contact.cfm
USE YOUR VOTE, Vote Biker Friendly, don't lose Your Riding Freedoms
U.S. Representatives
Tim Johnson 403-4690 or rep.johnson@mail.gov
Phil Hare 422-9245 or http://hare.house.gov
Aaron Schoch 202-225-6201 or www.house.gov/schoch
John Shimkus 492-5090 or www.house.gov/writerep
State Representatives
Bob Flider 782-8398 or 428-2708 or bflider@hdsmail.state.il.us
Bill Mitchell 782-8163 or 876-1968 or repmitchell@earthlink.net
Chapin Rose 782-8398 or 348-7677 or ls@chapinrose.com
State Senators
Kyle McCarter 217-782-5755 or 428-4068 or McCater@gvc.net
Bill Brady 782-6216 or 876-9407 or billbrady@senatorbillbrady.com
Dale Righter 782-6674 or 235-6033 or drighter@consolidated.net
YOUR VOTE Only COUNTS if You USE it
---
NEWS FOR OUR MEMBERS (this can change daily)
Good news for ABATE's Safety & Ed Coordinators, ABATE's new Motorcycle Awareness Video is now being presented by our instructors into class rooms. This video is produced by ABATE of Illinois and is to replace the old tapes we have been using. This video was well planned and produced. A Big THANK's should go out to Paulette Pinkham and all that helped get this video done. Stacy has already been into schools with the new tape and the teachers feel that the new tape appeals to the kids better.
Our Video is now being used in 22 states. We welcome them.
Laura Mayer is ABATE's State co- Safety & Education Coordinator, 815-838-2217 if you need to reach her try abatesafetyandeducation@hotmail.com
Razor Swinda is our Chapter"s co- Safety & Education Coordinator, if you need to reach him try razorzzt@hotmail.com
Ride Smart, Ride Safe, Don't Trust the other drivers to watch for You, Stay Alert
Mike myers is the State Coordinator of ABATE of Illinois, his phone is 815-621-7184 if you need to reach him or try abateofilsc@yahoo.com
Roger Leach is the Assistant State Coordinator of ABATE of Illinois, his phone is 217-502-2531 if you need to reach him or try roger.leach@usbank.com
George tinkham is the State Legislative Coordinator of ABATE of Illinois, you can reach him by phone 217-753-2737 or try abate2@juno.com
Razor Swinda is our Chapter Legislative Coordinator you can reach him at razorzzt@hotmail.com
ABATE of Illinois depends on income from Memberships, State Bike Raffle sales, State Party ticket sales, State product sales, ABATE Swap Meet attendance and Chapter DONATIONS, state income needs to improve now. Keep your Membership current and support ABATE. Our FREEDOM Is Our Business, so let's take care of business.
ABATE of Illinois, has on their site, several web site affiliates. If you use their services, be sure to log on through the ABATE site, because ABATE will be paid a percentage of the transaction.
ABATE has re-seated the off-roads panel. John Harris, Daniel Speerly and Stacey Rigsby will make up the panel. They will be looking for input from off-road users, look in the state paper for contacts.
The National Transportation safety Board (NTSB) is pushing for Universal Helmet Laws for every State. NOW is the time to get your riding friends, that aren't ABATE & MRF members, to JOIN. This is a form of Washington pushing Ilinois to do something that the riding public has time and again said NO to. According to the National Highway Traffic Safety Administration (NHTSA) two of the three states with the biggest increases in motorcycle fatalites had mandatory helmet laws and top three states with the largest decrease in motorcycle fatalities did not have mandatory helmet laws. The MRF along with ABATE of Illinois, see Safety & Education programs are the real keys.
The MRF has informed us that the U.S. House of Representatives recently formed the first official motorcycle safety caucus. It is open to all sitting U.S. Representatives and will focus on motorcycle safety and what Congress can do to support motorcycle safety. The co-chairs, Congresswoman Gabrielle Giffords (D-AZ) and Congressman Michael Burgess (R-TX)are both motorcycle friendly. Ask your congressman to join the motorcycle safety caucus by contacting either co-chairs's Washington D.C. offices. This is a non-funded caucus, but it could help us, as they plan to address safety, education and awareness issues.
ABATE of Illinois, dual chapter members, may only vote for officers & by-law changes in one chapter per year. They must declare a primary chapter choice when becoming a dual member. They can vote and be active in all other things that their chapters have to offer. Members switching chapters are limited to one switch per year. Members can only be an officer in one chapter at a time and it must be your primary chapter. For clearer view of this topic, consult the State By-Laws (latest addition) ARTICLE 2, Secion 5 These things were voted on and changed at the October 2004 BOD meeting.
The MRF has released what they are calling EPA for the Layman. the MRF website has been updated to reflect the EPA's changes and can be found on their site.mrf.org If you are a shop owner or you have plans to build a custom bike, or if you just like riding them, please fill out the MRF's epa questionnaire and send it to the MRF.
---
In Washington, the 110th Congress has HR1076 and S615 each are attempts to close the hole in HIPAA (1996)
ABATE has lost a Honorable freedom fighter, Sadly, November 7th, 2005, Rich "Neb" Nebelsick passed away. He helped fight to get the Illinois Supreme Court to overturn the Statute requiring helmets in Illinois. On May 28,1969 the Statute was found to be Unconstitutional. He put up his shop to pay for the fight. He will surely be missed, but never forgotten.
In October we also lost the recent past president of the MRF, Karen Bolin.
PROTECT YOUR FREEDOMS
RIDE SAFE AND FREE .....Look Twice and Save a Life
KEEP YOUR MEMBERSHIP CURRENT with ABATE of Illinois and ask us about joining the MRF, because Your Freedom is too Important to Let Slip Away
---
Links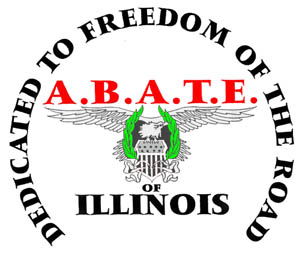 For the latest information on bikers rights legislation, other A.B.A.T.E. of Illinois Chapter links and more information about A.B.A.T.E. of Illinois, click on the logo.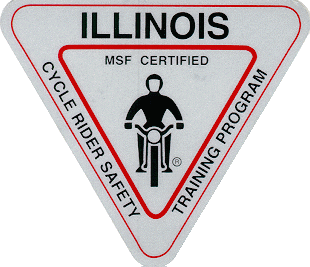 Click on the logo to go to the Illinois State University Motorcycle Safety Education Program Site.
---